Traditional Mozambican Food
During the event most of the food will be home cooked traditional Mozambican food that you will be invited to be part of cooking! Many traditional dishes are cooked with coconut and peanuts and boiled to perfection. You will try different kinds of delicious vegan stews of couve, cabbage and spinach-like leaves like matapa and tseke. If you want to be healthy dare to try the bitter dish cacana! There will also be chicken, beef and fish cooked in traditional ways with rice and xima, white corn porridge. Vegan/vegetarian options will always be available.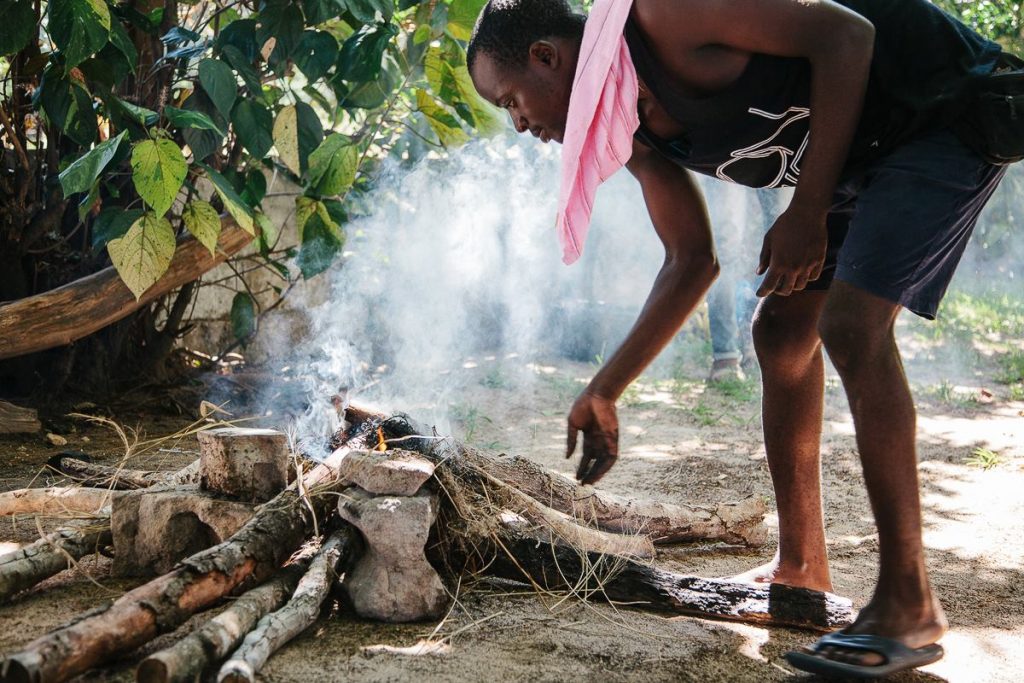 Food Schedule
Most meals are included in the package except for a few which are breakfast, Tuesday Lunch and dinner, Saturday lunch and dinner and Sunday breakfast/lunch. We recommend you to bring about 50$ for the meals of the week, but cheaper options are available.
Monday 11th | Traditional dinner served at Hoyo – Hoyo welcome party.
Tuesday 12th | Breakfast at own cost ( 3-6€ ) Lunch: At own cost at Feima Craft Market (3-10€) Dinner: At own cost at the main venue.
Wednesday 13th – Saturday 18th | Breakfast at own cost (3-5€), Lunch and dinner are included and will be cooked by our team! We will bring our own cook, pots and pans and cook over open fire. Help the team and learn the traditional ways of cooking! You will be divided into food teams to all take part of this experience! The last meal in Ponta D'Ouro is the breakfast on the 18th. Lunch and dinner will be at own cost back in Maputo (8-16€)
Sunday 19th | Breakfast and lunch at own cost. (3-10€) Dinner served at Salani Vamakweso Farewell Party.
Some recommended places to eat are
Feima Art Craft Market | There is a hidden corner for cheap local food (3€) or a more pricey restaurant at the market with traditional and Italian food. (8-15€) Suitable for lunch.
Mercado Janete | Next to Fátima's there is a local market, small food stands in a crowded space. It might look simple but the ladies with their traditional fabrics will cook you delicious local food. Open during lunch time.
Twingo and Mimos | Two restaurants around the corner from Fátimas at Av. Vladimir Lenin. Twingo serve português food and Mimos serve Italian food. (8-12€)
Food Safety
We will have a professional chef with us who will do her/his best to guarantee that the food is cooked under safe circumstances since we will be doing our own cooking. However, depending on your stomach and food habits, there is still a risk of upsetting your digestive system because if the different bacterias in local water and food. If you know you are sensitive, avoid tap water and ice, wash all fruit and fresh vegetables. To be extra cautious you can avoid any raw vegetables and stick to cooked food.