Angela Andrew – our Madrinha!
Madrinha means "God mother" in portuguese and means  that Angela is an extra mother of the group giving advice, moral support and is using her experience and contact network to help Hodi Maputo Afro Swing move forward in a sustainable way.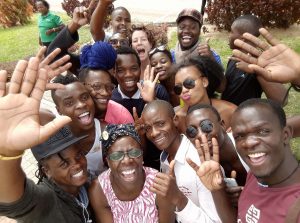 In 2013, Angela came to Herrang for the sole purpose to be a part of the companies stay at the dance camp and gave a support no one in the group will ever forget. Completing the circle, Angela participated at the Mozambique Afro Swing Exchange in 2017 supporting the development of the Afro Swing movement. Even though living far away her skill to understand the company and give advice is amazing, making her presence felt in Mozambique every day.
https://cookiesjam.wordpress.com/