Hodi Maputo Afro Swing
Research, Preservation and Dissemination of
Mozambican Culture and Art
Hodi Maputo Afro Swing is a non non-profit cultural association founded in 2014 and registered officialy in 2018. The mission of Hodi is to work for the preservation, research and dissemination of Mozambican traditional dance, music and traditional instruments as well as African American Swing Dances.
The company has over 78 artists that can also be divided into subgroups; a senior  singing and dance company, a musical group Banda Hodi, Makwaela choir group, choir musical group, theater group. Hodi also runs a youth program under the name Hodi Afro Swing Kids where future professional dancers are learning to dance Mozambican traditiona dances and Swing in the suburb of Maputo.  They also run regular Lindy hop dance classes in colaboration with dance Spot. Hodi has grown to be one of Mozambique's more advances dance companies representing dances from the whole country Hodi artists have over the years worked and  participated in many major international festivals abroad in China, Macau, Sweden, South Africa, Brazil, Beigium, Denmark, France, Germany, Ivory cost, Netherlands, USA and many others. Nationally they have participated several times in the Festival Nacional de Cultura, Festival de Xigubo, AZGO and Crossroads. They have also participated and perfomed at the international Lindy Hop events such as Burning Swing (BLS),  Herrang Dance Camp (Swe), Mother City Hop, (SA), Velo Swing (GER), Swinging Montpllier Africa (FR), and Frankie 100, US.
The board of Hodi Maputo Afro Swing consists of:
Elias Manhiça – President
Eugêncio Macuvel – Artistic Director
Augusto Manhiça – Musical Director
Erzenia Tamele – Assistant
Bernicia Cotela– MASX Communication
Below is a description of each division and their expertise:
---
Hodi Maputo Afro Swing – The Dance Company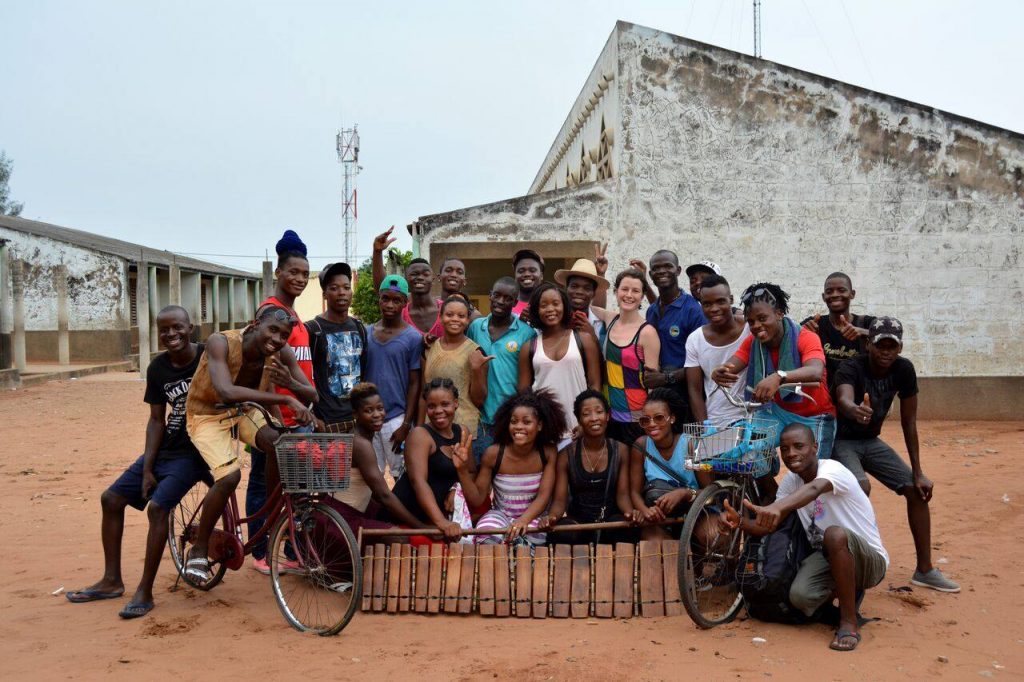 Consists of 20 dancers and 10 traditional musicians that perform traditional dances from all over Mozambique such as Xigubo, Marrabenta, Semba, Makway and others. The company has up to 30 dances in their repertoire, and also performs South African traditional and street dances, Hip hop, Swing and Contemporary Dance. The dances gives a large variety of expressions from powerful warrior dances to sensual female dances and surprises the audience with traditional drum and dance fusions of Hip Hop and Swing. Most of the dancers have danced since a very young age and their body movements are so intense that one cannot look away. On the stage some dance numbers are also used to bring up important subjects such as gender equality, deforestation and HIV. The dance company also runs weekly Lindy Hop classes at Associação dos Músicos in Maputo, read more under Lindy Hop in Mozambique and Africa.
---
Banda Hodi
Was formed in 2009 by young Mozambicans with their roots in traditional rhythms and instruments. Throughout the years beautiful fusions with jazz and reggae have developed but without loosing its authentic touch. The band is led by the twin duo Manhiça that captures and engages the audience with their singing and dancing. Banda Hodi has worked with artists such as Leon Mobley (US) Timbuktu (SWE) Mingas (Moz) Harlem Hot Shots (SWE) and Matuto (US). They started in the suburbs of Maputo but has grown to be one of the city's rising talents and recently performed at the festivals AZGO and Crossroads Mozambique.
---
Hodi Makwaela
Makwaela is a male choir and dancing tradition that originates in from the Mozambican workers of the South African Mines. Hodi's group consists of 14 male dancers who have been singing and dancing together since the age of 10. While performing they are dressed in suits and playfully bring up relevant communal topics such as the importance of the cultural heritage, HIV and family relations. Hodi Makwaela has participated three times at Mozambique's National Culture Festival, performs regularly to represent Mozambican culture at major political events and created a fusion with tap dancing in 2014 with the Harlem Hot Shots.
---
Hodi Youth programme and Hodi Afro Swing kids
Read about the Hodi Youth programme and Hodi Afro Swing kids here
See these short videos of Hodi Maputo Afro Swing working with the famous artist Leon Mobley. They will give you a taste of Hodi Makwaela, Banda Hodi and the traditional war dance Xigubo.