Lindy Hop in Mozambique
Lindy Hop was brought to Mozambique under the name Maputo Afro Swing in 2012 and was initially a project to bring Lindy Hop back to its African Roots. It was founded by Lisa Josefsson (Swe) and Nando Valoi (Moz) together with our dance company Hodi that later took the name Hodi Maputo Afro Swing because of the project. Since 2012 Hodi Maputo Afro Swing has run regular Lindy Hop classes in Maputo, performed Lindy Hop, Jazz chorographies and Charleston at events and festivals and has taught swing and Lindy Hop at the Hodi Youth Programme. Frankie Manning has been a great inspiration for the movement of spreading joy and human connection in Maputo through Lindy Hop.
See how Hodi Maputo Afro Swing celebrated Frankie 100!
Weekly Lindy Hop classes and social nights in Maputo
We have run weekly Lindy Hop classes in Maputo since 2012. They take place on Tuesdays and Wednesdays at Associação dos Músicos from 18h-20h and are taught in Portuguese, but anyone is welcome. Social dances happen place 1-2 times a month at different locations. For more info contact our local teacher Paulo Inácio "Yola" at paulo@maputoafroswing.com or +258 84252 6862
This is how social dancing can look like in Maputo!
Yesterday we made it, and was really fantastic!

Slået op af Maputo Afro Swing i Fredag den 11. august 2017
Performances with Hodi Maputo Afro Swing
Hodi Maputo Afro Swing performs Lindy Hop and famous jazz choreographies such as The Tranky Doo and The Big Apple.
Hodi Afro Swing Kids
Hodi Afro Swing Kids started in 2012 by Manuel Manhiça and in the same year Lisa Josefsson was invited to teach Lindy Hop and Charleston. These children in our youth programme are now our biggest Lindy Hop fans in Maputo! Hodi Maputo Afro Swing kids are our dance group, however, the Afro Swing Youth Programme has taught Lindy Hop and traditional Mozambican dance in different schools and at an orphanage in Maputo. See more info under the "Afro Swing Youth Programme". This video is from the first celebration after learning Charleston for a couple of months in Maputo:
Other Lindy Hop Scenes in Africa
The only other current Lindy Hop scene in Africa is Cape Town Swing which was started by American Jeannie Elliot in 2011. Today the have weekly classes and social dances ain Cape Town and orgnise the only other Swing event in Africa Mother City Hop! MCH is happening for the third time and are offering Lindy Hop classes with international teachers, social dancing with live music and tour around the beautiful city of Cape Town. For more info see: mothercityhop.com
Other history of Swing in Africa
Frankie Manning and his son Chazz Young went to South Africa celebrating Frankie's 88th birthday after dreaming about going to Africa for many years. He was given the adventure as a gift from the world Lindy Hop community. Frankie danced Shim Sham and Lindy Hop with the young dancers in the township Soweto in Johannesburg and connected with the African roots of his heritage. Mickey Davidsson also accompanied him on this trip. Chazz said about their experience: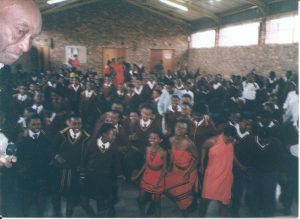 Frankie was thrilled, overwhelmed with the overall experience. It was a great point in his life, like a dream come true just being in Africa for the first time. I mean we traveled and went to different places in the world on a regular basis, but this had so much more meaning to Frankie and me both because our ancestors came from Africa; that is what made it so very special. That was one of the reasons Frankie wanted to go in the first place.
Louis Armstrong toured Africa for the second time in the 1960's and even stopped wars to play music and make people dance. He was met by people dancing their tribal dances celebrating the sound of his trumpet. Luckily one of his performances were recorded, enjoy! Read more about the tour here: